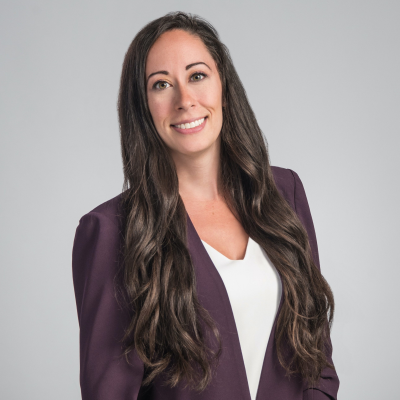 Danielle Pendleton
Mortgage Broker
Address:
303B 10171 Saskatchewan Drive, Edmonton, Alberta
Getting a mortgage is more than buying or owning a property: it's an integral part of one's life and financial goals, so I believe that it's only right for my services to continue even after a mortgage funds. As a Licensed Mortgage Associate, I utilize my vast industry and academic knowledge to help our clients find the best possible mortgage product and/or financial service that aligns with their specific needs. I use my problem-solving skills to think outside of the box to find solutions that work for my clients. I am a strong believer in educating current and future homeowners about their mortgage options to encourage informed decisions, leading to stronger client comfort and satisfaction. Having an understanding of not only rates, but mortgage types, features, restrictions and penalties is key to achieving one's financial goals, which can be attained by structuring a plan together with steps and guidelines. I specialize in - but am not limited to dealing with First-Time Homebuyers (including Self-Employed, New to Canada, New Builds, etc.), Repeat Homebuyers (including Rentals and Investment Properties, Vacation and Second Homes, Self-Builds, etc.), Current Homeowners (including Renewals and Refinances involving Debt Consolidation, Separations, Equity Take-Outs, Infills, etc.) and Spousal Buyouts. I can offer 3 tiers of lending: Prime, Sub-Prime and Private, so have many options for even mortgages that may have been declined from others, including banks.

I am committed to providing clients a personal, and professional one on one customer experience, all while finding them the most competitive rates and services that are available in Edmonton and Calgary, as well as their surrounding area markets.
---
BLOG / NEWS Updates
Ownership of Residential Property by Non-individuals
New data released today from the Canadian Housing Statistics Program provide information on ownership of residential properties by non-individuals in Nova Scotia, Ontario and British Columbia. The Canada Mortgage and Housing Corporation published a report using these new data,Residential Property in British Columbia, Ontario and Nova Scotia: An Overview of Non-individual Ownership, which also includes analysis of the ownership structure of vacant land across the three provinces. The data tables include information on non-individual entities, referring to firms and governments. For the purpose of this release, they are classified into the following categories: corporations, governments, and sole proprietorships and partnerships. Information on selected sectors in which those entities operate, following sector groupings from the North American Industry Classification System (NAICS), is also included in this release. Among firms and governments, corporations own the majority of residential properties Across the three provinces, corporations are the most common legal type of non-individual owners of residential properties, followed by governments. Corporations include businesses and non-profit organizations, while governments include federal, provincial, territorial and municipal governments. In terms ofNAICSsectors, entities belonging to the real estate and rental and leasing sector, the public administration sector and the construction sector are the most common non-individual owners of residential properties. In Ontario, three-quarters of non-individual owned properties are held by corporations, compared with68.9% in Nova Scotia and57.3% in British Columbia. The share of non-individual owned properties held by governments is highest in British Columbia (39.0%), followed by Nova Scotia (22.9%) and Ontario (20.1%). In Nova Scotia,28.8% of residential properties held by corporations are owned by the construction sector, compared with22.5% in Ontario and21.4% in British Columbia. Among the residential properties owned by corporations, the real estate and rental and leasing sector accounts for the largest share in Ontario (31.1%) and in British Columbia (23.4%), while in Nova Scotia it represents about one-quarter of the properties held by corporations. The average assessment value of a residential property owned by corporations is highest in British Columbia at $1.3million, compared with $630,000in Ontario and $330,000in Nova Scotia. In British Columbia, corporations account for84.7% of the total assessment value of non-individual owned properties, while in Ontario and Nova Scotia this share is closer to80%. Residential properties owned by governments represent around10% of the total assessment value of properties owned by non-individuals in each province.
Largest portions of household budgets go to shelter and transportation
Shelter remained the largest budget item for households in 2017, at 29.2% of their total consumption of goods and services. Spending on transportation, the second-largest expenditure category, accounted for 19.9% of total consumption, followed by food expenditures at 13.4%. Households spent an average of $18,637 on shelter, up 3.4% from 2016. Included in this total was an average of $16,846 paid for principal residence (which includes rent, mortgage payments, repairs and maintenance costs, property taxes and utilities) and an average of $1,791 for other accommodation, such as hotels and owned secondary residences. In 2017, two out of every three Canadian households owned their home, and more than half of homeowners had a mortgage. Homeowners with a mortgage spent an average of $25,904 on their principal residence, compared with $9,642 for homeowners without a mortgage and $13,499 for renters. Canadian households paid $12,707 for transportation in 2017, up 6.7% from 2016. They spent an average of $11,433 on private transportation, which includes the purchase of cars, trucks and vans, as well as their operating costs. Households, on average, spent $2,142 on gasoline and other fuels in 2017, up 9.8% from 2016, reflecting the 11.8% annual average increase in gasoline prices. Spending on public transportation, which covers public transit, taxis, intercity buses, trains and air fares, remained relatively unchanged at $1,274. In 2017, 84.0% of households owned or leased a vehicle. Vehicle ownership was highest in rural areas (94.9%) and lowest in cities with a population of at least one million residents (79.0%).