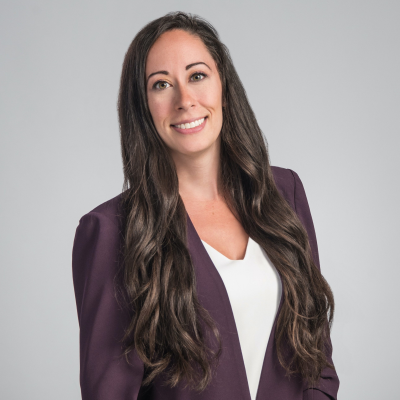 Danielle Pendleton
Mortgage Broker
Address:
202B 10171 Saskatchewan Drive, Edmonton, Alberta
Getting a mortgage is more than buying or owning a property: it's an integral part of one's life and financial goals, so I believe that it's only right for my services to continue even after a mortgage funds. As a Licensed Mortgage Associate, I utilize my vast industry and academic knowledge to help our clients find the best possible mortgage product and/or financial service that aligns with their specific needs. I use my problem-solving skills to think outside of the box to find solutions that work for my clients. I am a strong believer in educating current and future homeowners about their mortgage options to encourage informed decisions, leading to stronger client comfort and satisfaction. Having an understanding of not only rates, but mortgage types, features, restrictions and penalties is key to achieving one's financial goals, which can be attained by structuring a plan together with steps and guidelines. I specialize in - but am not limited to dealing with First-Time Homebuyers (including Self-Employed, New to Canada, New Builds, etc.), Repeat Homebuyers (including Rentals and Investment Properties, Vacation and Second Homes, Self-Builds, etc.), Current Homeowners (including Renewals and Refinances involving Debt Consolidation, Separations, Equity Take-Outs, Infills, etc.) and Spousal Buyouts. I can offer 3 tiers of lending: Prime, Sub-Prime and Private, so have many options for even mortgages that may have been declined from others, including banks.

I am committed to providing clients a personal, and professional one on one customer experience, all while finding them the most competitive rates and services that are available in Edmonton and Calgary, as well as their surrounding area markets.
---
BLOG / NEWS Updates
Most First-Time Homebuyers Spending All They Can Afford
Millennials have made up a significant portion of homebuyers in recent years and based on the 2018 Mortgage Consumer Survey, they continue to do so, representing just under half (49%) of first-time buyer respondents. Although this is a decrease from 60% in 2017 and 58% in 2016, Millennials continue to influence and shape the homebuying and mortgage process. Heres more of what we learned about Millennials and first-time buyers as a whole, powered by the 2018 Mortgage Consumer Survey. What does the typical first-time buyer profile look like? Forty percent are married, 80% are employed full-time and about one-quarter (26%) have a household income between $60,000 and $90,000. A strong percentage of them were born outside of Canada, with 22% identifying as newcomers to Canada. Mortgage professionals can help meet the unique needs of newcomers with the support of CMHCs homebuying information which is available in 8 different languages. The top 2 reasons first-time buyers bought a home: they wanted to get a first home and they felt financially ready. Although certain urban markets continue to exhibit high house prices and other barriers to entry, the survey found that 61% of first-time buyers bought a single-detached home. In fact, single-detached home was the top housing type purchased in all regions across Canada, except in British Columbia where condominium apartment was the most popular housing type. The vast majority (85%) of first-time buyers spent the most they could afford on their home, compared to 68% of repeat buyers. This indicates that first-time buyers, including Millennials, may be stretching themselves financially to purchase their home. When it comes to the down payment, savings from outside an RRSP was the main source for first-time buyers. This suggest there is an opportunity to further educate first-time buyers about other options to help fund their down payment, such as the Government of Canadas Home Buyers Plan (HBP). To get assistance with the mortgage process, first-time buyers contacted, on average, 2 brokers and 3 lenders. First-time buyer satisfaction levels with mortgage brokers and lenders remains high. However, mortgage professionals could further increase satisfaction levels by conducting more post-transaction follow-up and by providing clients with more information on closing costs, house purchase fees, interest rates, and steps involved in buying a home. CMHCs Step by Step guide is a valuable tool for mortgage professionals to share with homebuyers to ensure they feel confident throughout the entire homebuying process. https://www.cmhc-schl.gc.ca/en/housing-observer-online/2018-housing-observer/most-first-time-homebuyers-spending-all-they-can-afford
Bank of Canada increases overnight rate target to 1 ¾ per cent
The Bank of Canada today increased its target for the overnight rate to 1 per cent. The Bank Rate is correspondingly 2 per cent and the deposit rate is 1 per cent. The global economic outlook remains solid. The US economy is especially robust and is expected to moderate over the projection horizon, as forecast in the Banks July Monetary Policy Report (MPR). The new US-Mexico-Canada Agreement (USMCA) will reduce trade policy uncertainty in North America, which has been an important curb on business confidence and investment. However, trade conflict, particularly between the United States and China, is weighing on global growth and commodity prices. Financial market volatility has resurfaced and some emerging markets are under stress but, overall, global financial conditions remain accommodative. The Canadian economy continues to operate close to its potential and the composition of growth is more balanced. Despite some quarterly fluctuations, growth is expected to average about 2 per cent over the second half of 2018. Real GDP is projected to grow by 2.1 per cent this year and next before slowing to 1.9 per cent in 2020. The projections for business investment and exports have been revised up, reflecting the USMCA and the recently-approved liquid natural gas project in British Columbia. Still, investment and exports will be dampened by the recent decline in commodity prices, as well as ongoing competitiveness challenges and limited transportation capacity. The Bank will be monitoring the extent to which the USMCA leads to more confidence and business investment in Canada. Household spending is expected to continue growing at a healthy pace, underpinned by solid employment income growth. Households are adjusting their spending as expected in response to higher interest rates and housing market policies. In this context, household credit growth continues to moderate and housing activity across Canada is stabilizing. As a result, household vulnerabilities are edging lower in a number of respects, although they remain elevated. CPI inflation dropped to 2.2 per cent in September, in large part because the summer spike in airfares was reversed. Other temporary factors pushing up inflation, such as past increases in gasoline prices and minimum wages, should fade in early 2019. Inflation is then expected to remain close to the 2 per cent target through the end of 2020. The Banks core measures of inflation all remain around 2 per cent, consistent with an economy that is operating at capacity. Wage growth remains moderate, although it is projected to pick up in the coming quarters, consistent with the Banks latest Business Outlook Survey. Given all of these factors, Governing Council agrees that the policy interest rate will need to rise to a neutral stance to achieve the inflation target. In determining the appropriate pace of rate increases, Governing Council will continue to take into account how the economy is adjusting to higher interest rates, given the elevated level of household debt. In addition, we will pay close attention to global trade policy developments and their implications for the inflation outlook. https://www.bankofcanada.ca/2018/10/fad-press-release-2018-10-24/