AGENT LICENSE ID
M19000821
BROKERAGE LICENSE ID
12136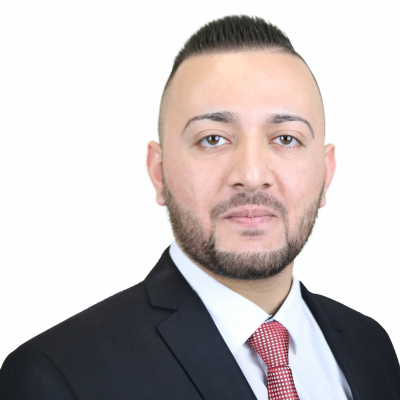 Daoud F
Mortgage Agent
Address:
204-3582 Major Mackenzie Dr W, Woobdridge , Ontario
How can I, Daoud F, assist you?
Whether you are purchasing a first home or your next home, choosing the right mortgage is an important undertaking. I am committed to helping you find the right financing to suit your needs and to make your mortgage experience as uncomplicated as possible. I am available around the clock and can meet you where you choose.
As a licensed Mortgage Agent I can provide you with sound advice and will do that is in YOUR best interest. I am ready to advise you from start to finish on:

* Applying for a pre-approval
* Financing your next resident/commerical property
* Refinancing a mortgage loan or tapping into the equity in your
current home
* Or any other property financing matter

With access to dozens of lenders, I can help you understand your options and find the right solution to suit your unique needs.

To get started - contact me anytime at 647.869.7432!
Talk soon,
Daoud F.
---
BLOG / NEWS Updates
Canadian home sales edge higher in March 2019
Home sales via Canadian MLS Systems edged up 0.9% in March 2019 following a sharp drop in February, leaving activity near some of the lowest levels recorded in the last six years. There was an even split between the number of markets where sales rose from the previous month and those where they waned. Among Canadas larger cities, activity improved in Victoria, the Greater Toronto Area (GTA), Oakville-Milton and Ottawa, whereas it declined in Greater Vancouver, Edmonton, Regina, Saskatoon, London and St. Thomas, Sudbury and Quebec City. Actual (not seasonally adjusted) sales activity fell 4.6% y-o-y to the weakest level for the month since 2013. It was also almost 12% below the 10-year average for March. That said, in British Columbia, Alberta and Saskatchewan, sales were more than 20% below their 10-year average for the month. By contrast, activity is running well above-average in Quebec and New Brunswick. It will be some time before policy measures announced in the recent Federal Budget designed to help first-time homebuyers take effect, said Jason Stephen, CREAs President. In the meantime, many prospective homebuyers remain sidelined by the mortgage stress-test to varying degrees depending on where they are looking to buy. All real estate is local, and REALTORS remain your best source for information about sales and listings where you live or might like to in the future, added Stephen.
Budget 2019
To help make homeownership more affordable for first-time home buyers, Budget 2019 introduces theFirst-Time Home Buyer Incentive. The Incentive would allow eligible first-time home buyers who have the minimum down payment for an insured mortgage to apply to finance a portion of their home purchase through a shared equity mortgage with Canada Mortgage and Housing Corporation (CMHC). It is expected that approximately 100,000 first-time home buyers would be able to benefit from the Incentive over the next three years. Since no ongoing payments would be required with the Incentive, Canadian families would have lower monthly mortgage payments. For example, if a borrower purchases a new $400,000 home with a 5 per cent down payment and a 10 per cent CMHC shared equity mortgage ($40,000), the borrowers total mortgage size would be reduced from $380,000 to $340,000, reducing the borrowers monthly mortgage costs by as much as $228 per month. Terms and conditions for the First-Time Home Buyer Incentive would be released by CMHC. CMHC would offer qualified first-time home buyers a 10 per cent shared equity mortgage for a newly constructed home or a 5 per cent shared equity mortgage for an existing home. This larger shared equity mortgage for newly constructed homes could help encourage the home construction needed to address some of the housing supply shortages in Canada, particularly in our largest cities. The First-Time Home Buyer Incentive would include eligibility criteria to ensure that the program helps those with legitimate needs while ensuring that participants are able to afford the homes they purchase. The Incentive would be available to first-time home buyers with household incomes under $120,000 per year. At the same time, participants insured mortgage and the Incentive amount cannot be greater than four times the participants annual household incomes. Budget 2019 also proposes to increase the Home Buyers Plan withdrawal limit from $25,000 to $35,000, providing first-time home buyers with greater access to their Registered Retirement Savings Plan savings to buy a home.