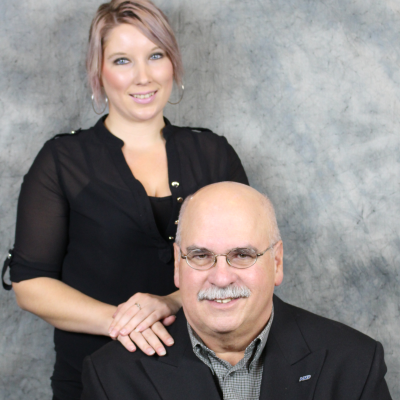 The LeBlanc Team
Accredited Mortgage Professional
Address:
100-99 Scurfield Blvd, Winnipeg, Manitoba, R3Y-1Y1
Ed LeBlanc, AMP | Accredited Mortgage Professional | Phone: 204-928-7723 | Cell: 204-941-3157 | Email: edl@onelinkmortgage.com
Alyssa LeBlanc | Mortgage Professional | Phone: 204-928-7704 | Cell: 204- 619-2166 | Email: alyssal@onelinkmortgage.com

Our Mission statement:
The LeBlanc Team's goal is to help assist home buyers through the process of home ownership financing. We specialize in all forms of Residential mortgages. Here are just a few examples - New to Canada, first time home buyers, renewals, switch / transfers, renovation mortgages, cottage mortgages & foreclosures.
We also specialize in commercial mortgages.
We are here to help minimize your workload, stress & guide you through the process from beginning to end so that you understand exactly what is happening each step of the way.
We are here from the beginning to the end and beyond, so you can contact us any time after your mortgage funds, as life changes and so do your needs.
Ed: 37 years in the business and financial services industry | Platinum Manager of Distinction | Chairman's Club - 6 years | Chrysler Financial Highest Approval Percentage | Summit Award | GM Grand Sales Master | President of the BNI Elite Chapter from October 2010 - 2013, 2020 - present | An Accredited Mortgage Professional (AMP) and Member of Mortgage Professionals Canada

Alyssa: 8 years in the business and financial services industry | Leadership team of the BNI Nexus Chapter from January 2019 – present | Business Launch Director of Winnipeg for BNI Manitoba from October 2019 – present | Mortgage Professional (MP) and Member of Mortgage Prfessionals Canada
Awards:
- 2009 Bronze Club Award for outstanding sales and service.
- 2010 Bronze Club Award for outstanding sales and service.
- 2011 Silver Club Award for outstanding sales and service.
- 2012 Silver Club Award for outstanding sales and service.
- 2013 Silver Club Award for outstanding sales and service.
- 2013 Integrity Award.
- 2014 Silver Club Award for outstanding sales and service.
- 2014 Rising Star Award.
- 2015 Gold Club Award for outstanding sales and service.
- 2016 Silver Club Award for outstanding sales and service.
- 2017 Gold Club Award for outstanding sales and service.
- 2017 Integrity Award.
- 2018 Silver Club Award for outstanding sales and service.
- 2019 Gold Club Award for outstanding sales and service.
- 2020 Sapphire Award for outstanding sales and service