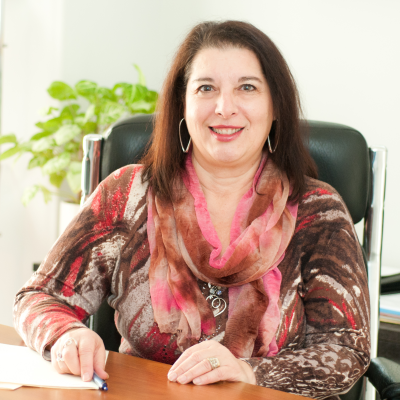 Anna Barone
Anna Barone
Address:
4101 Green Rose Cres, Regina, Saskatchewan
BROWSE
PARTNERS
GREETINGS!
My name is Anna Barone and with over 35 years of experience in the financial services industry, I am equipped with the knowledge and skills needed to assist my clients in making the dream of owning a home become reality. I especially enjoy helping the enthusiastic first time homebuyers in answering their questions and providing advice and resources to them. I don't just find the best rate, but actually take the time to customize the best solution for my clients' personal situation.
For most people, buying a home will be the largest expenditure they will ever make and this is not something to be taken lightly. Invest in yourself, your home and your future.
Consulting with an experienced, accredited, professional is KEY to owning a new home. If you or someone you know needs to finance a home purchase, build a new house or tap into existing home equity - please call me today!
---
BLOG / NEWS Updates
Unemployment rate unchanged in October
Following two consecutive months of growth, employment held steady in October. The unemployment rate was unchanged at 5.5%. On a year-over-year basis, employment grew by 443,000 or 2.4%, driven by gains in full-time work. Over the same period, total hours worked were up 1.3%. In October, employment increased in British Columbia and Newfoundland and Labrador, and was little changed in the other provinces. Employment was down for men in the core working ages of 25 to 54, and grew for the population aged 55 and over. Employment declined in manufacturing and construction. At the same time, employment was up in public administration and in finance, insurance, real estate, rental and leasing. The number of self-employed workers decreased, while the number of employees in the public sector increased for the second consecutive month.
Canada: Household Credit Growth Continues To Climb in September
CANADIANS BORROWING HAND OVER FIST Total Canadian household credit growth continued to accelerate in September, reaching a pace last seen in mid-2018. Despite a slight deceleration from the previous month to 4.3% at a seasonally adjusted annualized rate (m/m saar), trend growth remains at elevated levels. Both mortgage and consumer credit growth contributed to the 68 bps slowdown from the prior month (46 bps and 22 bps, respectively), but borrowing conditions remain favourable overall with trend growth still in strongly positive territory. RESIDENTIAL MORTGAGE CREDIT EXPANSION CONTINUES ITS ASCENT Residential mortgage credit growth continued on its upward trajectory in September supported by favourable borrowing conditions and strong labour markets. Mortgage loan growth accelerated by 4.9% m/m saar in September, pushing the year-on-year trend growth rate to 4.2% y/ythe fastest pace since mid-2018, marking a well-pronounced recovery in the mortgage-borrowing market. Canadas real estate market looks to be rebounding following a turbulent couple of years due to various policy announcements from 2017 to 2018 designed to cool the market. Mortgage borrowing has picked up through the second half of 2019 with the uptick in demand following a reduction in the mortgage qualifying rate in July and a decline in 5-year mortgage rates. With the Bank of Canada under pressure to continue to provide a stimulative environment following sustained levels of uncertainty, residential mortgage credit growth is expected to remain supported in the foreseeable-future. Strength in Canadian labour markets has also been conducive to a favourable borrowing environment. Septembers surge in job gains contributed to a fall in the unemployment rate to 5.5%. Source: Scotiabank