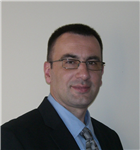 Dejan Kovacevic
Mortgage Broker
Address:
102-1289 91 Street SW, Edmonton, Alberta, T6X 1H1
It PAYS to shop around.

Many Canadian homeowners pay too much for their homes because they are not getting the best mortgage financing available in the market.

The mortgage process can be intimidating for homeowners, and some financial institutions don't make the process any easier.

But I'm here to help!

I'm a VERICO Mortgage Advisor and I'm an independent, unbiased, expert, here to help you move into a home you love.

I have access to mortgage products from over forty lenders at my fingertips and I work with you to determine the best product that will fit your immediate financial needs and future goals.
I specialize in products for Self-Employed individuals, New to Canada, Refinance, First time home buyers, etc.

VERICO mortgage specialists are Canada's Trusted Experts who will be with you through the life of your mortgage.

I save you money by sourcing the best products at the best rates – not only on your first mortgage but through every subsequent renewal. So whether you're buying a home, renewing your mortgage, refinancing, renovating, investing, or consolidating your debts — I'm the VERICO Mortgage Advisor who can help you get the right financing, from the right lender, at the right rate.
---
BLOG / NEWS Updates
ABOUT CHIP REVERSE MORTGAGES
Wouldnt it be nice if you had the money to do more of the things you want to do? A CHIP Reverse Mortgage could be just what you need. Its the simple and sensible way to unlock the value in your home and turn it into cash to help you enjoy life on your terms. BENEFITS OF A CHIP REVERSE MORTGAGE You receive the money tax-free. It is not added to your taxable income so it doesnt affect Old Age Security (OAS) or Guaranteed Income Supplement (GIS) government benefits you may receive. You can use the money any way you wish. Maybe you want to enjoy your retirement or cover unexpected expenses. Perhaps you want to update your home or help your family without depleting your current savings. The only condition is that any outstanding loans (e.g. existing mortgage or home equity line of credit) secured by your home must be paid out with the proceeds from your CHIP Reverse Mortgage. No regular mortgage payments are required while you or your spouse live in your home. The full amount only becomes due when you and your spouse no longer live in the home You maintain ownership and control of your home. You will never be asked to move or sell to repay your CHIP Reverse Mortgage. All thats required is that you maintain your property and stay up-to-date with property taxes, fire insurance and condominium or maintenance fees while you live there. You keep all the equity remaining in your home. In many years of experience, 99 out of 100 homeowners have money left over when their CHIP Reverse Mortgage is repaid. And on average, the amount left over is 50% of the value of the home when it is sold.